This month recognizes Asian Pacific American Heritage. In the continent of Asia and the Pacific islands, there is an immense variety of cultures and a multitude of different cuisines. Immigrants introduced dishes from their motherland to Americans and now we can see how varied the choices are whenever we want to go out to eat or even by just opening the UberEats app to get a delivery. So every time you get a craving for sushi, poke, pho, samosas, dim sum, or pad thai, say a silent "thank you" to those who brought the delicious meals to America.
As an Asian American who grew up in the Far East, I've been celebrating the month by taking a few popular dishes from the region and making some tweaks to make these a little healthier.
Steamed Dumplings (China)
Base recipe resource: Yi Reservation
Dumplings are either fried, boiled or steamed. This blog is all about being healthy so ditch the oil and let's steam these bad boys. Steaming retains the nutrients better than boiling.
Plot twist: Use fish for protein. It generally has less saturated fat compared to pork and other red meats.
Ingredients:
1 pack of dumpling wrappers (at least 30 pieces; I used the yellow version but white is more common)
1.5 lbs fresh tilapia fillet (or any kind of white fish), finely diced
1/2 cup of cooked kernel corn
2 tbsp water
2 tbsp corn starch
2 tsp low sodium soy sauce
1 tsp white pepper powder
1/4 cup egg white substitute
For the ginger scallion infused oil:
2 stalks of scallion, finely chopped
3 slices of ginger, finely chopped
3 tbsp cooking oil
2 tsp kosher salt
1 tsp sugar
Procedure:
Mix the scallions, ginger, salt and sugar in a bowl.
Heat up the cooking oil until smoky then slowly pour it in the bowl mixture while stirring with a spoon.
In a bigger bowl, combine the diced fish, corn, oil mixture, egg white, lite soy sauce, white pepper powder and corn starch.
Using your hand or spatula, mix everything while slowly pouring water in it, until smooth.
Assemble and fold the dumplings using 1 tbsp of the mixture for 1 wrapper. Check out this video to get some ideas on how to fold (I tried the second method).
Steam the dumplings until cooked through. Click here for how to steam without a steamer. If you have a steamer and want some tips, click here and proceed to method #1.
Dak Bulgogi (Korea)
Base recipe resource: AllRecipes.com
If you like Korean food, then you know about bulgogi. But have you met its lesser known sibling, dak bulgogi? "Dak" means "chicken" so this recipe uses the healthier, but still tasty, chicken thighs. To make it close to Korean BBQ, I used my trusty tabletop grill. But you can also use a skillet.
Ingredients:
1 lb skinless boneless chicken thighs
5 tbsp low sodium soy sauce
1/4 cup onion, chopped
2.5 tbsp brown sugar
2 tbsp minced garlic
2 tbsp sesame oil
1/2 tsp cayenne
Procedure:
Chop the chicken into 2-inch long pieces.
Combine the rest of the ingredients in a bowl and mix well until the sugar has dissolved.
Add in the chopped chicken and marinate for at least 30 minutes.
Cook the chicken in a skillet or tabletop grill in medium high heat. Be careful with the marinade as the sugar can cause it to smoke easily.
Once chicken is cooked through, serve.
Instant Pot Monggo (Philippines)

Base recipe resource: Melissa Torio
Also known as mung bean soup or stew, monggo is rich in protein and vitamins. It's commonly cooked in the Philippines as meatless soup Fridays during the Lenten season, served as a side dish with fried fish and rice. But this version is a stew that has ground poultry in it to make it more filling (yay more protein!). And we're going to use an Instant Pot so we won't have to soak the mung beans overnight.
Ingredients:
1/2 lb ground chicken or turkey
1.5 cups mung beans
1 onion, chopped
3 cloves of garlic, minced (or as they say, measure that with your heart)
2-3 roma tomatoes, chopped
A bunch of spinach
1 tbsp fish sauce
1 tbsp vegetable oil or canola oil
4.5 cups water
Procedure:
Set Instant Pot to saute mode and wait for it to finish heating up. Put oil.
Saute the chopped onion and minced garlic.
Add the ground chicken or turkey and cook until it turns light brown.
Turn saute mode off. Pour in the water and mung beans, stir, cover and set to manual pressure for 10 minutes.
Once it's finished, let the pressure release naturally. Then set it to saute mode again and add in the spinach and fish sauce.
Cook for 3 minutes then turn off saute mode. Serve.
Baked Sushi (Japan/Hawaii)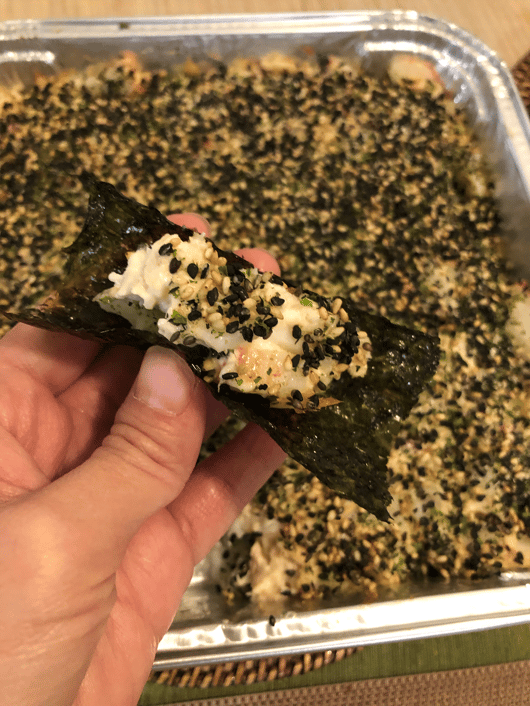 This is great if you love sushi but you don't have a bamboo mat at home to roll it. Also known as "sushi bake", it became popular during the first couple of months of the pandemic when everybody stayed home and tried to figure out how to make sourdough bread. I see this as a fusion recipe since sushi is from Japan but the baked aspect of it came from Hawaii (also, #sushibake went crazy viral in the Philippines).
And I know what you're thinking, who the heck thought of baking sushi? I myself found it a silly idea initially but when I took the first bite, wow! The warmth of the sushi fresh out of the oven elevated the flavors!
Ingredients:
8 oz imitation crab meat, chopped
1/2 lb cooked shrimp, chopped
1/2 cup light mayo (for a more authentic taste you can use the Japanese Kewpie mayo but proceed with caution as this only utilizes egg yolks)
35g of furikake seasoning (or half a jar of it)
1.5 cups of cooked white rice (sushi rice preferred)
Seaweed sheets
Note: The above ingredients make up the base recipe of the Baked Sushi. Feel free to add others like roe, chopped green onions, wasabi, etc.
Procedure:
Preheat oven to 450F degrees.
In an 8x8 square pan, make a layer of the rice and ensure that it's distributed evenly.
In a bowl, combine the chopped crab meat, shrimp and mayonnaise. Mix well.
Take half of the furikake and season it over the rice.
Get the crab-shrimp-mayo mixture and spread it on top of the seasoned rice.
Season using the last half of the furikake.
Once the oven is preheated, put the pan in and bake for 5 to 10 minutes, once the top has started to brown.
Take out of the oven when done. Scoop with a spoon and serve with a seaweed sheet wrapped around it. Enjoy!
Of course, when you find yourself in the midst of a busy day with no time to cook, consider supporting a local Asian/Pacific business and order from them. Or try one of our LM Prep meals like the new Ginger Pork Bowl, the popular Mongolian Beef, or the gorgeous Tuna Poke.