After learning that our clubs were closing on March 16th, it was clear that Merritt would need to pivot quickly and take fast action to keep our members engaged and active. Despite having no experience with teaching group fitness from a virtual platform, I reached out to our Marketing team a few days later to get working on a plan for our first virtual classes, which went live on Wednesday morning. In just about 36 hours after our closing announcement, we had launched a brand-new element for Merritt Clubs – virtual fitness!
Working out to a DVD (or even VHS – hey, Tae Bo!) had been a regular part of my fitness routine growing up. When I wasn't in the midst of a sports season, or dancing in a musical theater production, I enjoyed popping in a VHS and working out in the basement with my mom.
Joking aside, Tae Bo was a big hit in our house. When I went off to college, I would still enjoy at-home workouts when I came home on break. By that time, ExerciseTV was being broadcast on cable and I was able to explore and experience a whole breadth of new workout styles. There are even a few fitness personalities and videos that I discovered through ExerciseTV that I still use today (thanks, YouTube!).
After I graduated from college, I also explored P90X, Insanity, and a few other trendy at-home workout platforms. I never really experimented with online or on-demand platforms and, despite my thorough exploration of at-home workout options (did I forget to mention 8-Minute Abs, Arms, and Buns?!), I struggled with getting motivated to work out in my basement to instructors with whom I had no connection. This was something that stayed front of mind for me as I ventured into new territory as a virtual instructor in March of this year.
When the world shut down back in March, we were all faced with the necessity of finding new ways to move and to keep ourselves physically, mentally, and emotionally healthy. I even pulled up those old ExerciseTV videos and broke out a few P90X DVDs! I also had the added perspective of ten years as a group fitness instructor and, in addition to caring for myself, I wanted to work to take care of my Merritt friends and family. We then began five months of virtual fitness offerings from the amazing team at Merritt.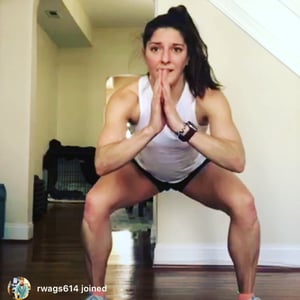 The first boot camp I broadcast live was quite a nerve-wracking experience. I woke up extra early and created the workout. I planned my outfit and put on a little makeup. I had coffee. I cleaned my whole downstairs. I organized the furniture in my living room to allow room to workout, as well as space for my devices. I attempted to figure out what to do with our dog, Otis, while I was live. I tested lighting. And despite all that, I still picked the class apart after it was all over. But the interactions were great! It felt fantastic to get up and move with familiar faces and create a small semblance of routine in the week. If you want to check out that first virtual class, it's still available through our Facebook page here.
The process of teaching virtually has become better and easier as time has passed. I have really come to enjoy it - especially the challenge of creating an engaging and motivating experience for people to access anytime, anywhere. I like getting to interact and work out with people that I wouldn't get to normally due to limitations of time and location. And I love that the true celebrity to come out of all of this was Otis, our rescued pitbull, who came into our lives (my husband's and mine) as a direct result of Merritt and a fundraiser we hosted with BARCS.
And while Otis will not be with me, I am so excited about the launch of Merritt Clubs On Demand for our members (and soon, family and friends near and far)! Having the ability to work out, to get those endorphins running with a familiar face, is a great motivating tool! I also had so many people share that they tried a new format that they were too nervous to try in a gym setting but were comfortable trying in the safety of their own home. What a great added benefit – no fear of judgement or having to be the newbie in a room full of regulars! As much as our team of instructors welcomes everyone, regardless of skill or experience, into all of our classes, that fear can be a tough thing to overcome.
We have a great team of instructors ready to get you moving with on demand offerings available whenever fitness fits into your schedule. And we are excited to build our livestreaming schedule of classes as well.
So, to sum up my experience with fitness on demand:
Tae Bo started it all (P.S. Billy Blanks is 65 years old and still rocking it!).
Otis the Pitbull is a celebrity among Merritt members (and I mean, duh – he's freaking adorable).
Teaching to a computer screen is a little scary, but if you just remember WHY you're doing it, things become a whole lot easier.
Virtual Fitness is a great way to try new class formats!
Merritt is SO EXCITED about launching On Demand! If you are an existing paying member it is only $5 per month but Merritt wants to give members 30 days free as a thank you for being a part of the Merritt family this year.
Merritt Clubs On Demand is currently available to Merritt members only. Access to non-members will be announced at a later time.