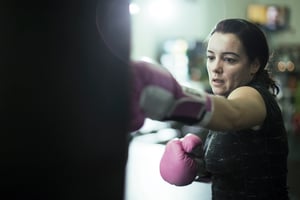 Boxing is a great way to get in shape, shed fat, build lean muscle mass, and learn real boxing technique. Combining short and long bursts of intensity, our boxing sessions will push you to reach your next level of fitness in a safe and controlled environment. And best of all, it's fun!
HIIT (High Intensity Interval Training) is a popular and effective form of fitness training. The short bursts of high intensity followed by longer bursts of lower intensity are highly effectively in aiding fat loss, improving cardio and endurance, and cultivating lean body mass. Our boxing sessions follow a HIIT style and combine real boxing technique along with traditional exercises such as push-ups, squats, and sit-ups to ensure that you work on building the necessary fitness components required for the duration of boxing rounds. These fitness components include having adequate strength, stamina, balance, and cardio.
Along with getting in shape, you will learn real boxing techniques including how to jab, uppercut, block punches, and other fundamental boxing techniques. Through learning a new skill such as boxing, you will also help build coordination through your whole body. Being able to perform longer punching combos will improve your coordination, which can be thought of as another component of fitness that other styles of working out don't always address. The combination of general fitness as well as the technical skill of boxing will help you build a more functional level of fitness that will help you to feel your best both in and outside of the gym.
Boxing will push you to reach new heights in your fitness journey, as well as teaching you a fun skill, relieving stress, and leaving you feeling refreshed and ready for whatever life throws at you.
For any questions, feel free to to contact us. Or if you're ready to begin your boxing fitness journey you can schedule a free session at one of our Merritt Clubs locations today!